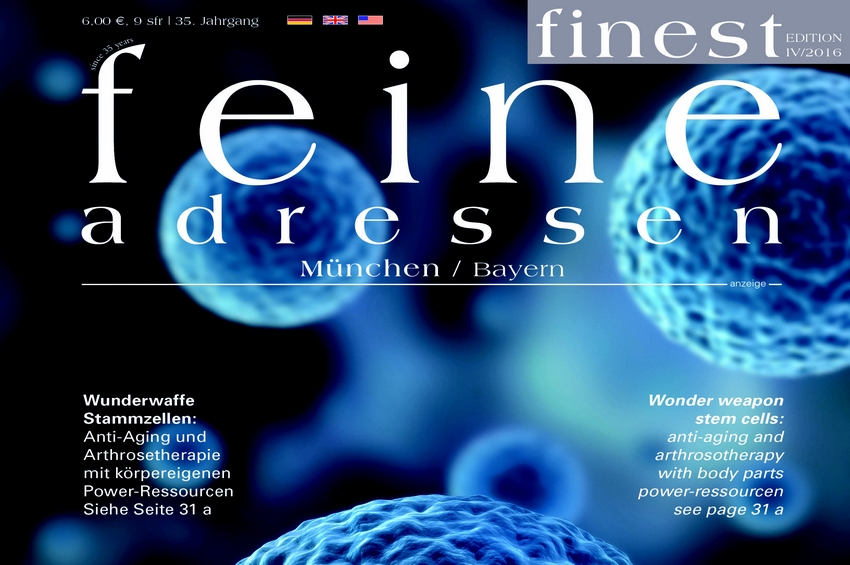 Commendations for the Center for Regenerative Medicine and Stem Cell Therapy as a "top address" for arthrosis therapy and anti-aging treatments using stem cells.
The desire to remain youthful and vital is human nature. But no one is immune to the traces left by the passage of time. One person may observe small wrinkles and reduced skin elasticity, while another notices decreased mobility. For example, wear and tear on the joints, one of the most common signs of aging, can make even the smallest of movements extremely painful. The ability to cope with daily routines and everyday life may be severely restricted, leading to subjective premature aging. Ironically, physically active and body-conscious individuals are affected more often than those leading sedentary lifestyles, due to the higher than average demands on joints.
Until now, modern medical techniques were only capable of providing limited help in cases of joint deterioration and arthrosis. The emphasis lies, however, on "until now". Therapy using stem cells, the body's own resource pool for repairs and renewal, has opened doors to previously undreamt-of treatment methods. Trailblazer is the Center for Regenerative Medicine and Stem Cell Therapy, with facilities located in Munich and on Lake Thiersee in Tirol, specialized in the treatment of diseases and disorders of the musculoskeletal system such as arthrosis and muscle or tendon injuries, as well as regeneration and rejuvenation therapy.
The idea: Adipose tissue, for example abdominal fat, is used as a basis for stem cell acquisition, as stem cells can be extracted from the body's own fatty tissue quite easily and in fairly large quantities. In high-tech centrifuges, stem cells are extracted, processed, and subsequently administered to the affected areas directly after harvesting. As an alternative, treatment can be done using stem cells taken from autologous blood. Shortly after treatment, pain in hips, knees, ankles, spine and shoulders is effectively reduced and mobility once thought lost is restored.
With this method, the Center for Regenerative Medicine and Stem Cell Therapy has reached the next level of cutting-edge medical treatment for chronic inflammatory (degenerative) diseases of the musculoskeletal system – among other things. Through continual scientific and clinical research, the spectrum of treatment possibilities is increasing at a rapid pace.
The entire article can be found here.